Radital Kylgel
Radital Liniment
Effective and deep acting cooling
Radital Kylgel is a fast acting cooling gel that gives a deep acting, efficient cooling.Cooling can relive temporary pain and temporary decreases the blood supply to the exposed area in order to reduce muscle bleeding, swelling and inflammation. By decreasing the blood flow the body's recovery can be benefited.

96 hours withdrawal for competition in Scandinavia.
Usage
Rub or massage onto swollen or sore muscles, joints and ligaments.
After strenuous work out as purpose to decrease blood flow and shorten the recovery time
For a longer cooling effect, apply multiple times.
Bör ej appliceras på sår eller skadad hud.
Storage & Shelf life
Förvaras i rumstemperatur.
24 månader. Se bäst före datum.

For external use. Wash hands thoroughly after application. Avoid getting the product in the eyes, rinse with water if it should occur.
Keep out of reach of children.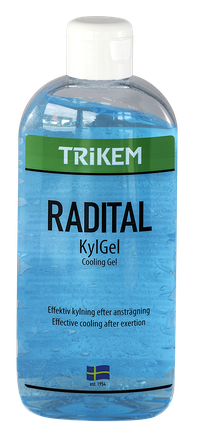 Content
Aqua
Alcohol denat
Isopropyl Alcohol
Menthol
Carbomer
Triethanolamine
Citric acid
Cl. 42015
ART NR
172100
1721050
1721060
1721010
172120

EAN
7394244101788
7394244101184
7394244101993
7394244101221
7394244100958

SIZE
250 ml
500 ml
600 ml
1000 ml
2500 ml

FÖRP
6
6
6
6
2
Do you have questions about our products?
Please contact us and we will help you.